Barefoot and pirouetting her way across the stage in a sequence of twists and turns, Florence Welch of Florence + The Machine gave it her all in Birmingham's Genting Arena last Saturday.
It was in a standing arena, crammed full of people of all ages, a couple of rows from the barrier that I first witnessed Florence and her 11 (?) piece band The Machine. Having bought my friend Ella their first album Lungs for her 9th birthday it was a big day for us as 16 year olds. Before Florence I didn't really understand that albums that weren't titled Pop Party 1,2,3,4... existed, let alone that music could actually be good and have a new depth to it. It was a new experience for me as I regularly launched into my own rendition of Kiss With A Fist in the shower at the age of 10.
It was about 3 songs into the night whilst Shake it Out filled my ears when I realised a Florence + The Machine concert isn't just a concert. The intesity of it makes you feel as if you are undergoing some sort of spiritual experience or as Ella put it: "a religious journey". I don't know how to describe it without sounding out of my mind but I walked out of The Genting Arena that night with all worries and depressing thoughts dismissed from my mind. All I could seem to focus on was how blessed I am to have had the chance to view such a spectacle and how much I loved the world.


The set up consisting of numerous instruments, one of these being a beautiful harp, and a large backdrop that glittered with the light provided aniticipation before a single foot had stepped onto the stage. The show was opened by The Staves who were, as an audience member described, "Very Florence-y". The three sisters had extremely strong and unique voices. So much so that they could easily have lulled me into a sense of calm and sent me drifting off to sleep. Their voices needed no backing instruments and although often accompanied they occasionally sang without it.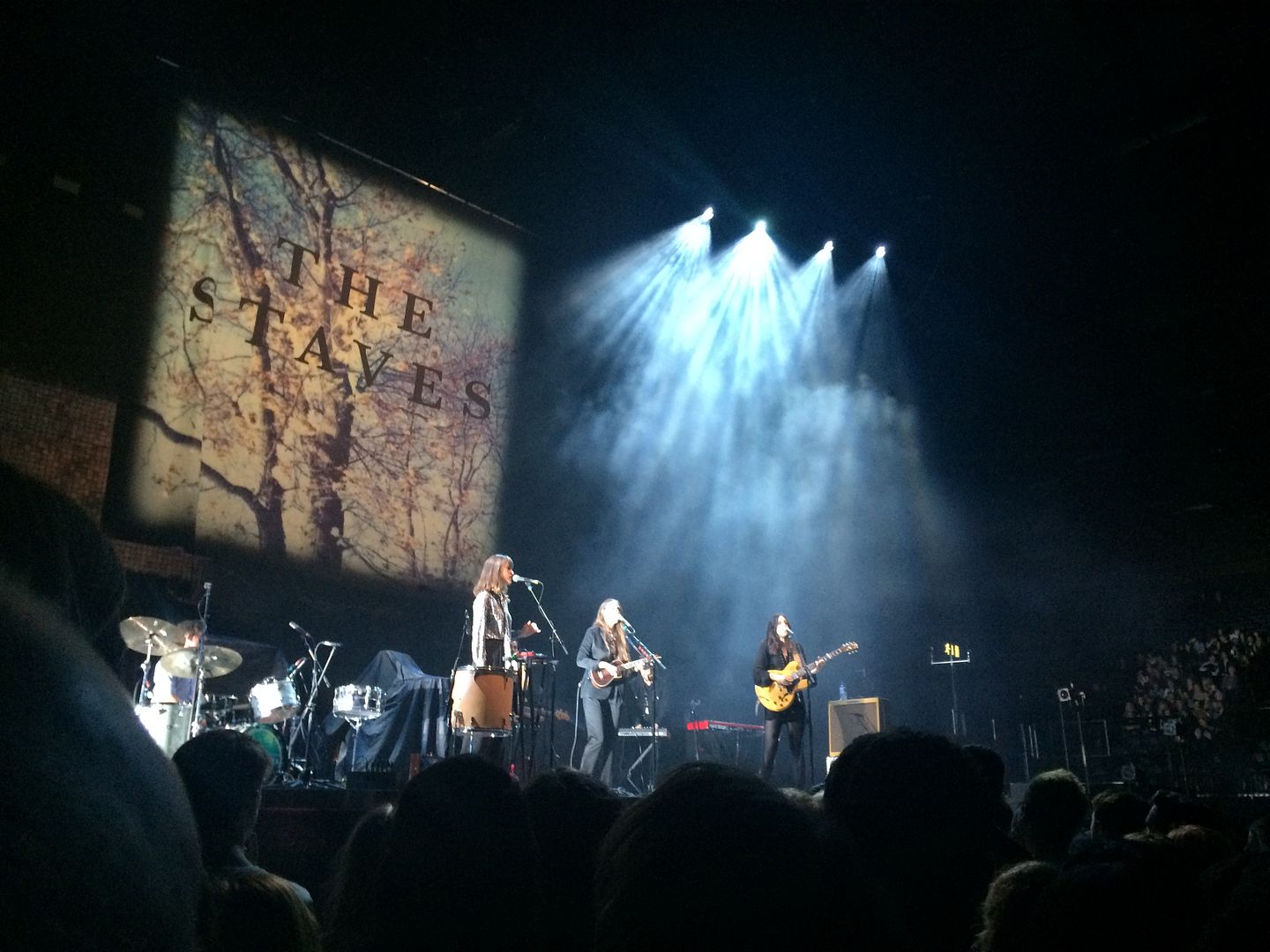 Florence + The Machine's 16 song set was met with one of the most energetic crowds I've been engulfed in to date. We had roars of approval, screams of I love you and the regular deep masculine shout that seems to occur from somewhere in the middle at every concert I've experienced, the voice of whom usually belonging to a bald middle aged man. It's always the way. After the band left the stage following Dog Days Are Over the crowd took it upon themselves to create the closest I've experienced to an earthquake in my life. I was surrounded by stomping feet, clapping hands and the rythmic chanting of FLO-RENCE FLO-RENCE over and over and over. She graced us with a two piece encore of What Kind of Man and Drumming Song which was met with more noise than the rest of the songs combined. That says an awful lot.
Although the band is clearly Florence + The Machine, both complementing each other greatly, it was Florence who well and truly stole the show that night. She radiated with energy and enthusiasm. More than once she lept down from the stage and lent over the barrier into the crowd, everyone in the surrounding area surging forward in the hope they could brush their hand against hers. The way she looked out into the crowd with such intense eye contact was the most enchanting thing to watch. A small shake of her tamborine sent everybody into a frenzy of love. Never before have I been in a room so full of love.